Wie üblich bietet FOX gleich mehrere Sendepläne an, für die in der Vergangenheit meist glücklose Herbst/Winter-Saison sowie die "American Idol"-Saison ab Januar. Die Erfahrung aus den Vorjahren zeigt allerdings, dass insbesondere die Upfronts-Pläne von FOX bereits schon einige Wochen später zu weiten Teilen obsolet sind…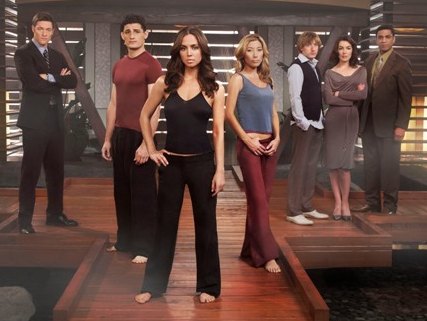 Joss Whedons "Dollhouse" hat eine 13-Episoden-Order und wird (nach dem gegenwärtigen Plan) ab Januar 2009 montags um 20 Uhr als Lead-In zur siebten Staffel von "24" ausgestrahlt. Der bereits im Vorfeld angekündigte "24"-Film wird im November als "Prequel" zur siebten Staffel gezeigt. Besonders gut meint es FOX aber mit J.J.Abrams neuer Show und gibt ihr den Slot hinter "House" (Herbst) bzw. "American Idol" (Frühjahr). Starttermin ist für "Fringe" der 26. August 2008.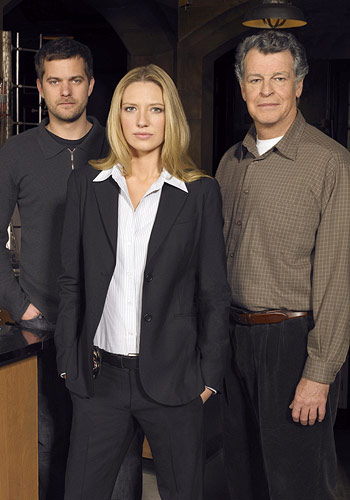 FOX PRIMETIME SCHEDULE: FALL 2008
MONDAY
8:00-9:00 PM TERMINATOR: THE SARAH CONNOR CHRONICLES
9:00-10:00 PM PRISON BREAK
TUESDAY
8:00-9:00 PM HOUSE
9:00-10:00 PM FRINGE
WEDNESDAY
8:00-9:00 PM BONES
9:00-9:30 PM 'TIL DEATH
9:30-10:00 PM DO NOT DISTURB (wt) (aka "The Inn")
THURSDAY
8:00-9:00 PM THE MOMENT OF TRUTH
9:00-10:00 PM KITCHEN NIGHTMARES
FRIDAY
8:00-9:00 PM ARE YOU SMARTER THAN A 5th GRADER?
9:00-10:00 PM DON'T FORGET THE LYRICS!
SATURDAY
8:00-8:30 PM COPS
8:30-9:00 PM COPS
9:00-10:00 PM AMERICA'S MOST WANTED: AMERICA FIGHTS BACK
11:00 PM-Midnight MADtv
Midnight-12:30 AM TALKSHOW WITH SPIKE FERESTEN
SUNDAY
7:00-8:00 PM THE OT (NFL post-game)
8:00-8:30 PM THE SIMPSONS
8:30-9:00 PM KING OF THE HILL
9:00-9:30 PM FAMILY GUY
9:30-10:00 PM AMERICAN DAD
FOX PRIMETIME SCHEDULE: BEGINNING JANUARY 2009
MONDAY
8:00-9:00 PM DOLLHOUSE
9:00-10:00 PM 24
TUESDAY
8:00-9:00 PM AMERICAN IDOL
9:00-10:00 PM FRINGE
WEDNESDAY
8:00-9:00 PM HOUSE
9:00-9:30 PM AMERICAN IDOL Results Show
9:30-10:00 PM TBA Comedy
THURSDAY
8:00-9:00 PM HELL'S KITCHEN
9:00-10:00 PM SECRET MILLIONAIRE
FRIDAY
8:00-9:00 PM BONES
9:00-9:30 PM 'TIL DEATH
9:30-10:00 PM DO NOT DISTURB (wt)
SATURDAY
8:00-8:30 PM COPS
8:30-9:00 PM COPS
9:00-10:00 PM AMERICA'S MOST WANTED: AMERICA FIGHTS BACK
11:00 PM-Midnight MADtv
Midnight-12:30 AM TALKSHOW WITH SPIKE FERESTEN
SUNDAY
7:00-7:30 PM COMEDY ENCORES
7:30-8:00 PM COMEDY ENCORES
8:00-8:30 PM THE SIMPSONS
8:30-9:00 PM KING OF THE HILL (January) / SIT DOWN, SHUT UP (wt) (spring)
9:00-9:30 PM FAMILY GUY
9:30-10:00 PM AMERICAN DAD (January) / THE CLEVELAND SHOW (wt) (spring)